©1977 Universal City Studios, Inc. All rights reserved.
Catalog Number
10-012
Format
Standard Play CAV
MPAA Rating
Running Time
113 minutes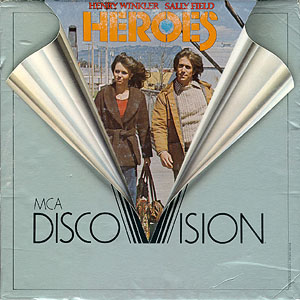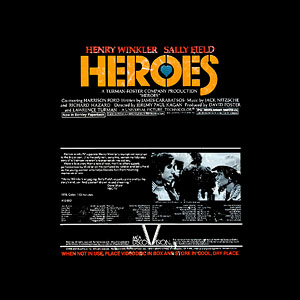 ---
Mono
Pressing Location
DiscoVision Carson
Label Color
Blue
Retail Price
$15.95
Year Issued
1979
Side
Frames
Running Time
1
33,929
23min 33sec
2
29,554
20min 31sec
3
33,047
22min 56sec
4
31,166
21min 38sec
5
35,765
24min 50sec
163,461
113min 30sec
Dead Side
Various
Ratings
Video Transfer
Audio Transfer
Replication
Packaging
Large Open-Top
Open-Top
Side-Open Sticker
Printed
Pressing Notes
The video transfer of Heroes is only average for DiscoVision. The daylight scenes are absent of the vivid color and snap of some of the better transfers. The dark scenes are overly dark and lose much of their detail. On the audio front, the film is lacking high-ends, which is typical for DiscoVision. However, the low-ends are well represented as is evident when listening to the Camero idle as our main characters are pulling into the hotel. Replication is below average, with some speckling present, especially in the dark scenes.

DiscoVision choose the worst places for the side breaks in this film. The break only remotely well placed is the side 3-4 break. With running times so short, there has to be better locations within this film.

There is a difference between the disc labels & jacket artwork and the actual film. At the time Heroes was released, the PG rating was used, but the GP rating was still around as well. As GP was being phased out, Universal had all of its films re-rated by the MPAA for the current rating system. The artwork proclaims Heroes is rated PG, but the film still carries the GP on-screen certification.
---
Release History
Heroes was never reissued on LaserDisc.
---
MCA DiscoVision Home Page
---
Updated: November 7, 2016
Copyright ©1998 Blam Entertainment Group