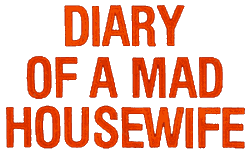 ©1970 Frank Perry Films, Inc. All rights reserved
Catalog Number
10-006
Format
Standard Play CAV
MPAA Rating
Running Time
100 minutes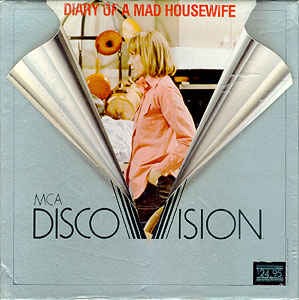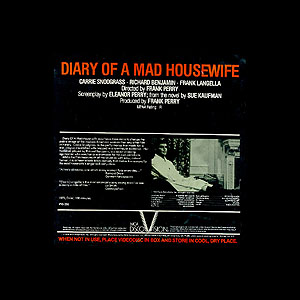 ---
Mono
Pressing Location
DiscoVision Carson
Label Color
Blue
Retail Price
$15.95
Issued
January 1979
Side
Frames
Running Time
1
39,119
27min 09sec
2
32,788
22min 46sec
3
35,677
24min 16sec
4
32,154
22min 19sec
139,738
97min 02sec
Ratings
Video Transfer
Audio Transfer
Replication
Packaging
Open-Top
Side-Open Sticker
Printed
Pressing Notes
The original theatrical release of Diary of a Mad Housewife had a total running time of 103 minutes. While it cannot be confirmed, the only difference between that version and this 97 minute version is an edited opening credits sequence, which admittedly is rather disjointed in this edition. This version cannot be confused with the TV version of the film which could more correctly be called an alternate version with some altered footage and a running time of 95 minutes.

DiscoVision last listed this mad housewife in the August 1980 catalog update. Mastered with the alternate "red" bumpers, the video transfer has an odd blue tint to some scenes - almost as if the image was shot through a fog filter. The reds are amazingly brilliant but show the typical defects in DiscoVision's pressing. The audio transfer is unremarkable, except for the first 2000 frames of side 2 where the volume is almost non-existent.

Some masterings of side 2 were encoded with 20 Frame Skip.
---
Release History
Diary of a Mad Housewife was never reissued on LaserDisc.
---
MCA DiscoVision Home Page
---
Updated: November 15, 2016
Copyright ©1998 Blam Entertainment Group