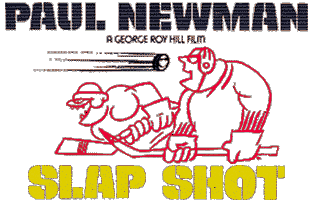 ©1977 Universal Pictures. All rights reserved.
Catalog Number
16-004
Format
Standard Play CAV
MPAA Rating
Running Time
123 minutes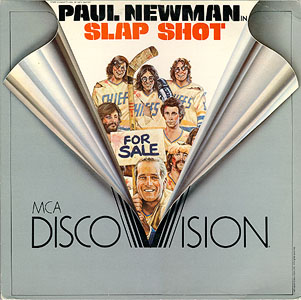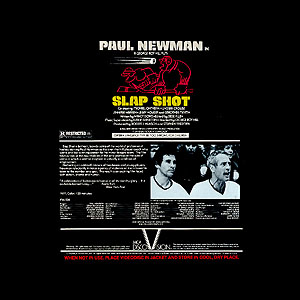 ---
Mono
Pressing Location
DiscoVision Carson
Label Color
Blue
Retail Price
$15.95
Issued
December 1978
Side
Frames
Running Time
1
33,780
23min 27sec
2
37,616
26min 07sec
3
37,238
25min 51sec
4
35,596
24min 43sec
5
33,521
23min 16sec
177,751
123min 26sec
Dead Side
Various
Ratings
Video Transfer
Audio Transfer
Replication
Packaging
Large Open-Top
Open-Top
Side-Open Sticker
Printed
Pressing Notes
Slap Shot must have one of the shortest opening credits sequence in history. Including only Paul Newman and several behind-the-camera people such as writer, producer and director, the entire sequence runs a measly 17½ seconds. It took the words "Star Wars" nearly that long to disappear from the screen in 1977. And did anyone else notice that Mr. Newman passes "air" instead of the puck during his first on-ice sequence around frame 7300?

There are at least 3 known masters of Slap Shot. Frame counts vary slightly on all sides, but they contain the same information. All transfers appear the same - with varying degrees of 'blue' in the dark scenes - but all appear to be struck from the same release print. On the video side, the image is outstanding. The colors are bright and vivid, only occasionally does it appear over-saturated. The audio transfer is equally well done, giving rich fidelity to the music. The normal missing high-ends are absent to a certain degree here too, but it isn't overly obvious.

Some copies of side one contain blank frames from 28029 to 28049. It's not that there are 20 blank frames, it's that frame 28029 has a picture, the next frame is blank and is frame number 28039. Next is 28043, 28044 & 28045 on up to where the image returns on 28050. The blank frames should actually contain picture because there are several frames missing when the image is restored. Some masterings of side 2 have been known to exhibit 20 Frame Skip. Other masters of side five contain an audio mastering error in the right channel. There is a drop in volume at frame 6,736 which continues for the duration of the film. Since the film is mono, shutting off the right channel makes it more listenable without losing anything. Neither copy used as a basis for this page exhibited this audio problem.

Several transfers also have abrupt side edits, with no fade-in or fade-out. Other masterings contain fade-ins and fade-outs at the side breaks. It is not uncommon to find some sides with fades mixed with sides which do not. As new sides were needed, DiscoVision simply re-mastered the side needed. The way things worked, it could be possible for only a few masterings of side 1, but have as many as 20 masterings of side 4.

And speaking of side 4, keep a close eye out. There are 2 "mike in frame" shots between frames 1750 and 1825, and another between 21600 and 21650. There are 2 more occurrences between frames 27500 and 27750. With 1.85:1 framing, all visual errors would be masked by the aperture plate in the projector. Some players will also mistakenly report chapter stops on this side, but there aren't any.

The CAV version of Slap Shot was listed for the last time in the July 1981 catalog. The jacket contains the disclaimer "Certain language may be too strong for children." Since the film is rated R, by the MPAA (presumably for the language), doesn't that seem redundant? What did you expect from an R rating? Bambi?
---
Release History
Slap Shot was reissued on MCA Videodisc (Catalog #: 16-004) as a 2 sided Time-compressed CLV disc in 1981. Ten years later, a 3 Sided CLV/CAV version of Slap Shot (Catalog #: 16004) was issued in March 1991. This version contains changed music and is labeled "Home Video Version". An interesting aside to this release - the side breaks are in the exact same spots as the disc breaks of the DiscoVision edition.
---
MCA DiscoVision Home Page
---
Updated: November 15, 2016
Copyright ©2002 Blam Entertainment Group