©1973 Thames Television. All rights reserved.
Catalog Number
55-002
Format
Standard Play CAV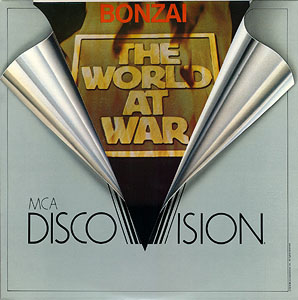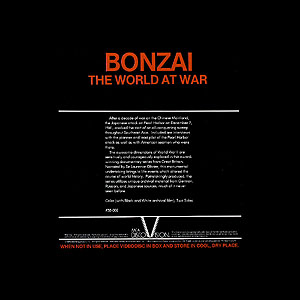 ---
Mono
Pressing Location
DiscoVision Carson
Label Color
Green
Retail Price
$9.95
Year Issued
1979
Side
Frames
Running Time
1
42,550
29min 32sec
2
35,916
24min 56sec
78,466
54min 29sec
Ratings
Video Transfer
Audio Transfer
Replication
Packaging
Open-Top
Side-Open Sticker
Printed
Pressing Notes
Bonzai!, episode 6 of the highly acclaimed British documentary series The World at War, contains what is possibly the longest DiscoVision side ever produced. Tipping in at a whopping 42,550 frames, side 1 will run for 29 minutes and 32 seconds with a counter displayed. This doesn't include the 300 or so frames which would contain the opening DiscoVision bumper and spiral graphics. All discs in the The World at War series contain one very very long side and as a result, most have tracking problems at the end. On the whole, disc replication is very clean, with very little speckling evident.

The transfer was quite good which was typical of DiscoVision's handling of the non-feature programs. Since this program was prepared for television broadcast in Europe, the 16mm source material was well suited for this transfer. However, the images appear grainy, showing the age of the elements. The audio transfer is clear and intelligible, with some very powerful low-ends during the bombing sequence on Pearl Harbor. As is typical, there is almost no high-end to the audio. Further, there was something wrong with the source optical sound head when this title was transferred. There is a constant pumping in the audio, most noticeable during quiet passages, which lasts for the entire program.
---
Release History
Bonzai! was never reissued on LaserDisc.
---
MCA DiscoVision Home Page
---
Updated: November 7, 2016
Copyright ©1998 Blam Entertainment Group