©1973 Warwick Film Productions Limited and Universal Pictures. All rights reserved.
Catalog Number
11-004
Format
Standard Play CAV
MPAA Rating
Running Time
144 minutes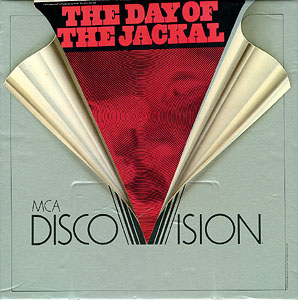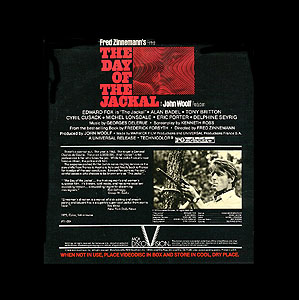 ---
Mono
Pressing Location
DiscoVision Carson
Label Color
Blue
Retail Price
$15.95
Year Issued
1979
Side
Frames
Running Time
1
37,819
26min 15sec
2
36,415
25min 17sec
3
33,298
23min 07sec
4
32,661
22min 40sec
5
31,506
21min 53sec
6
34,244
23min 46sec
205,943
143min 01sec
Ratings
Video Transfer
Audio Transfer
Replication
Packaging
Large Open-Top
Open-Top
Side-Open Sticker
Printed
Pressing Notes
The Day of the Jackal falls in the middle of the rarity scale. However, finding excellent copies is nearly impossible. The most notorious side is side 5, which always begins with lots of high frequency video noise and audio static. This usually clears up during the first 8,000 frames and then plays cleanly through the rest of the side. The video transfer, rated at 4 stars here, is really quite good. The colors are rich and vivid with an overall image which is very sharp. The brightness and contrast are under control, even in some of the darkest of scenes which itself is unusual for DiscoVision. This transfer is even slightly better than that of the new widescreen transfer available on the Universal Studios DVD release. The audio transfer is a bit distracting however. Only listed as average here, there is almost no high-end material and there is an annoying deep hum which is present and quite pronounced on systems equipped with a sub-woofer. This hum comes and goes through the entire picture - especially on scenes which occur indoors.

The transfer has an annoying hair which appears on side 1 at frame 4,853 and continues until frame 5,073. Side 3 also suffers from a mastering error beginning at frame 20,634. The picture tears at the top of the frame, skips frames 20,635 and 20,636 then continues this tearing pattern until 20,657.
---
Release History
The Day of the Jackal was reissued on MCA/Universal Home Video in May 1991 as a 3 sided CLV/CAV title (Catalog #: 11004). A 1.85:1 widescreen edition was issued in 1998, but was only available in Japan.
---
MCA DiscoVision Home Page
---
Updated: November 15, 2016
Copyright ©2002 Blam Entertainment Group