©1976 Kapustan Industries N.V. All rights reserved.
Catalog Number
15-004
Format
Standard Play CAV
MPAA Rating
Running Time
155 minutes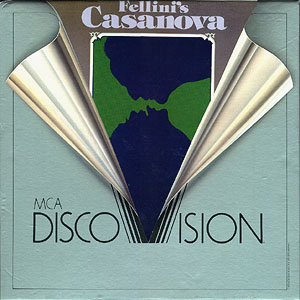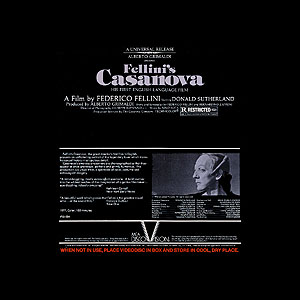 ---
Mono
Pressing Location
DiscoVision Carson
Label Color
Blue
Retail Price
$15.95
Year Issued
1979
Side
Frames
Running Time
1
35,822
24min 52sec
2
37,922
26min 20sec
3
36,908
25min 37sec
4
40,824
28min 21sec
5
39,122
27min 10sec
6
32,833
22min 48sec
223,431
155min 09sec
Dead Side
Various
Ratings
Video Transfer
Audio Transfer
Replication
Packaging
Large Open-Top
Open-Top
Side-Open Sticker
Printed
Pressing Notes
The opening credits of Fellini's Casanova are letterboxed at an aspect ratio of 1.77:1, making this the first true example of letterboxed video. The video transfer is sharp, but overly saturated. The contrast is too high, making the image appear harsh and forced. The audio transfer also has an edge to it and is often overdriven. Disc replication, given the single example I've seen, is better than average, with some minor speckling and high-frequency noise. On side 3, frames 26,994 through 27,017 have no audio or video. The side breaks chosen by DiscoVision are terrible. The side 4/5 break is placed in the middle of a sentence. However, one may not notice since the film is horribly disjointed anyway.

According to Leonard Maltin's Movie & Video Guide 1997, Fellini's Casanova has never been released on LaserDisc. Obviously his records do not include release on DiscoVision. This has contributed to the rarity factor, and the title, in good condition, is a highly sought after release.

Dead sides, while not normally associated with an even sided title, have been found on Fellini's Casanova. The occurrence has been found where the discs were assembled incorrectly and rather than placing side 6 on the back of side 5, a standard deadside was used instead. An odd find, not to mention rendering the film incomplete.
---
Release History
Fellini's Casanova was never reissued on LaserDisc in the US. A widescreen 165 minute version was issued in Japan.
---
MCA DiscoVision Home Page
---
Updated: November 15, 2016
Copyright ©1998 Blam Entertainment Group