©1957 Universal Pictures Company, Inc. All rights reserved.
Catalog Number
23-004
Format
Standard Play CAV
Running Time
81 minutes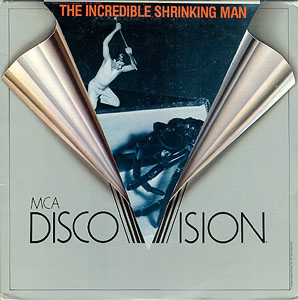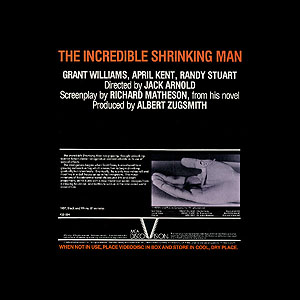 ---
Mono
Pressing Location
DiscoVision Carson
Label Color
Blue
Retail Price
$9.95
Issued
December 1978
Side
Frames
Running Time
1
38,206
26min 31sec
2
38,945
27min 02sec
3
39,378
27min 20sec
116,529
80min 55sec
Dead Side
Various
Ratings
Video Transfer
Audio Transfer
Replication
Packaging
Open-Top
Side-Open Sticker
Printed
Pressing Notes
Universal International's 1957 classic film concerning the plight of Scott Carey, The Incredible Shrinking Man, is not the only item that appears to be shrinking in this DiscoVision version. Depending on your monitor, the top of the picture may not completely fill the screen. It is most likely caused by the misframing of the image and the black area is most likely the 35mm frame line. On the video transfer, The Incredible Shrinking Man gains very high marks as do several of the other black and white features. The contrast and balance are well done and the image is sharp and clear. The audio transfer is equally well done, but varies as background noise in the soundtrack shifts with the source. For example, during conversations between Scott and his wife, her audio is clear while his contains considerable background noise. This is likely not a fault of the transfer, but of the source material.

Disc replication from this very early pressing is average for other discs of the period. Speckling is present, but not overly annoying. The disc labels have a printing error, listing the copyright year as 1975. The title shrank from the catalog after the October 1980 printing.
---
Release History
MCA Home Video reissued The Incredible Shrinking Man (Catalog #: 23004) in December 1991.
---
MCA DiscoVision Home Page
---
Updated: November 15, 2016
Copyright ©2000 Blam Entertainment Group