©MCMLXI Walt Disney Productions. All rights reserved
Catalog Number
D61-504
Format
Standard Play CAV
Running Time
47 minutes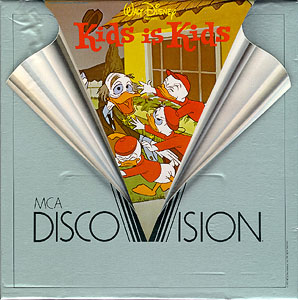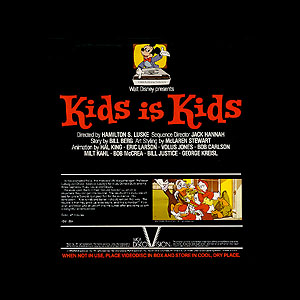 ---
Mono
Pressing Location
DiscoVision Carson
Label Color
Green
Retail Price
$9.95
Issued
February 1979
Side
Frames
Running Time
1
44,822
24min 54sec
2
40,188
22min 20sec
85,010
47min 13sec
Ratings
Video Transfer
Audio Transfer
Replication
Packaging
Open-Top
Side-Open Sticker
Printed
Pressing Notes
Kids is Kids was dropped after the October 1980 catalog. One of several episodes of the Wonderful World of Disney television program which made its way to the DiscoVision catalog. Although Walt Disney Company flatly denies any involvement with DiscoVision, one cannot argue the titles exist.

The program has been transferred from film and DiscoVision neglected to properly adjust for the 3/2 pull down necessary for the 24fps of film. As a result, freeze frames are jittery and unstable for the duration of the program. The video transfer is sharp and clear, but varies throughout the program, only because of the age of the source. Many of the cartoons featured in this collection are from the 40's and early 50's and do not blend well with the newer footage. Sections of this program are also featured on At Home with Donald Duck.
---
Release History
Kids is Kids later re-appeared as Side 2 of "The Mickey Mouse and Donald Duck Cartoon Collection #2" from Walt Disney Home Video (Catalog #: 70AS).
---
MCA DiscoVision Home Page
---
Updated: November 15, 2016
Copyright ©1998 Blam Entertainment Group