©1976 Paradine Co-Productions Limited. All rights reserved.
Catalog Number
18-001
Format
Standard Play CAV
MPAA Rating
Running Time
126 minutes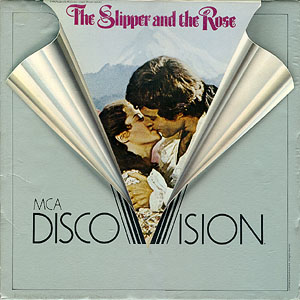 ---
Mono
Pressing Location
DiscoVision Carson
Label Color
Blue
Retail Price
$15.95
Issued
December 1978
Side
Frames
Running Time
1
38,156
26min 30sec
2
39,576
27min 29sec
3
35,877
24min 55sec
4
38,155
26min 29sec
5
33,094
22min 59sec
184,858
128min 22sec
Dead Side
Various
Ratings
Video Transfer
Audio Transfer
Replication
Packaging
Large Open-Top
Open-Top
Side-Open Sticker
Printed
Pressing Notes
Ranked high among the "hard to find" DiscoVision feature films, The Slipper and the Rose can give a collector the same problems Cinderella gave the Prince in this story. Richard Chamberlain plays the role of the Prince in search of Gemma Craven playing Cinderella. Many are unfamiliar with this 1976 British musical, as it receives very limited airing on television. The film is bright and fun with all original music by Robert & Richard Sherman who were responsible for Mary Poppins. While some of the film is a bit silly (one musical number takes place in a burial crypt), it still is a pleasing experience.

This is the American cut of the film, which trims the running time by 18 minutes from the 146 minute British version. The Pan & Scan transfer at times is focused on the wrong section of the screen. A good Widescreen transfer of this film, at the full running time, would be warmly welcomed.

The video transfer is occasionally bright, which gives the film a washed out look in some places. The brightness seems to shift from scene to scene, but it's not overly compensated for as in other DiscoVision transfers. The colors are well represented and vibrant. There are several rather odd scene changes, which are most likely due to the excised 18 minutes of footage. The audio transfer is a bit harsh and seems recorded at too loud a setting. Some have found the audio tinny, but it is more like being slightly out of phase, which causes some disorientation during playback.

The DiscoVision replication is about average. Most sides include very minor speckling, but it isn't anywhere near as bad as other titles from the same period. There are no anomalous chapter encoding errors (no chapters at all in fact) and no errant auto-picture stop codes. However, side 2 does have a rather odd ping in the audio between frames 24,930 and 24,960. Further, side 5 begins swiftly with an annoying click in the audio between frames 170 and 185. As with many other DiscoVision transfers, the 3/2 pulldown has been done incorrectly, with the correct fields/frames being assigned to the frame numbers. This results in unstable freeze-frames for the entire film. Playback is unaffected by this error.
---
Release History
The Slipper and the Rose was never reissued on LaserDisc.
---
MCA DiscoVision Home Page
---
Updated: November 15, 2018
Copyright ©2004 Blam Entertainment Group