© Metromedia Producers Corp. and Les Requins Associes. All rights reserved.
Catalog Number
51-007
Format
Standard Play CAV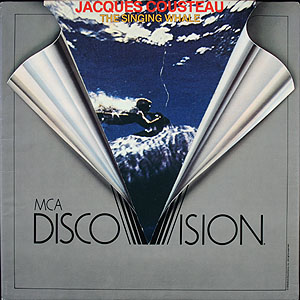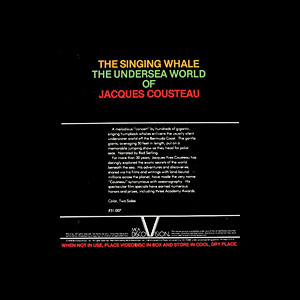 ---
Mono
Pressing Location
DiscoVision Carson
Label Color
Green
Retail Price
$9.95
Year Issued
1979
Side
Frames
Running Time
1
37,681
26min 10sec
2
35,346
24min 32sec
73,027
50min 42sec
Ratings
Video Transfer
Audio Transfer
Replication
Packaging
Open-Top
Side-Open Sticker
Printed
Pressing Notes
Rated as the rarest Jacques Cousteau DiscoVision title, the transfer of The Singing Whale is typical for the series. Taken from a 16mm print, the contrast and color balance are under control. Sharpness and detail are also quite good. The typical "old feel" is present which makes it appear a bit grainy in some places. The audio transfer is typical for the 16mm optical track, with the dialog crisp and clear. The DiscoVision bumper music is overdriven and sounds distorted. Disc replication is fairly clean.

It is widely held this title is one of the rarest DiscoVision titles - thought for many years to have never actually been produced. In recent years, they have been popping up in clumps on auction sites such as eBay.
---
Release History
The Singing Whale was reissued on LaserDisc in 1986 by Pacific Arts through Image Entertainment (Catalog #: ID5296PA) as a single sided CLV pressing.
---
MCA DiscoVision Home Page
---
Updated: November 7, 2016
Copyright ©2006 Blam Entertainment Group