© Walt Disney Productions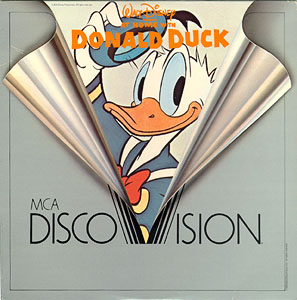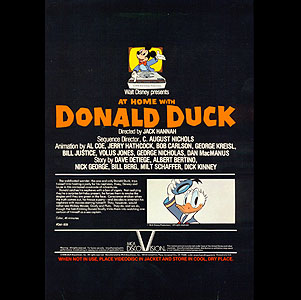 ---
Mono
Pressing Location
DiscoVision Carson
Label Color
Green
Retail Price
$9.95
Year Issued
1979
Side
Frames
Running Time
1
41,325
22min 58sec
2
44,142
24min 31sec
85,467
47min 29sec
Ratings
Video Transfer
Audio Transfer
Replication
Packaging
Large Open-Top
Open-Top
Side-Open Sticker
Printed
Pressing Notes
At Home with Donald Duck was still available when DiscoVision printed its last catalog in July 1981. This collection included "Mickey's Circus" complete with credits. One of several episodes of the Wonderful World of Disney television program which made its way to the DiscoVision catalog. Although Walt Disney Company flatly denies any involvement with DiscoVision, one cannot argue the titles exist. The program has been transferred from film and DiscoVision neglected to properly adjust for the 3/2 pull down necessary for the 24fps of film. As a result, freeze frames are jittery and are stable only on 3 of 5 frames or with the use of digital field memory.

The program centers around Donald Duck and his nephews. They buy a box of cigars for his birthday and when he finds them with the cigars, he makes them smoke the entire box. Not a terrific role model. Regardless, when he realizes the cigars were meant to be his birthday present, he makes it up to them by throwing them a party. All this animation was produced for the program. The balance of the story involves the party guests watching several old Disney cartoons. They are:
Mickey and the Seal
Foul Hunting
Pluto's Blue Note
Mickey's Circus
Sea Salts
---
At Home with Donald Duck has never reappeared on LaserDisc. However, the cartoon "Mickey's Circus" was re-issued on the Limited Gold II: Life With Mickey collection from Walt Disney Home Video.
---
Return to MCA DiscoVision Catalog
MCA DiscoVision Home Page
---
Updated: November 25, 2015
Copyright ©1998 Blam Entertainment Group