©1981 Universal City Studios, Inc. All rights reserved.
Catalog Number
16-026
Format
Extended Play CLV
MPAA Rating
Running Time
93 minutes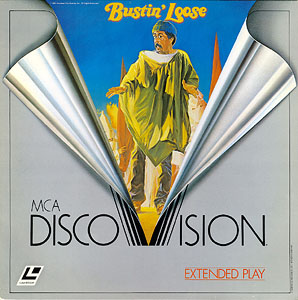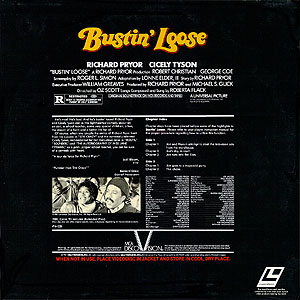 ---
Mono
Pressing Location
Universal Pioneer Japan
Label Color
Red
Retail Price
$29.95
Year Issued
1981
Side
Chapters
Running Time
1
3
50min
2
2
42min
5
92min
Ratings
Video Transfer
Audio Transfer
Replication
Packaging
Printed Jacket
Pressing Notes
Bustin' Loose was on that last train out of the station. Produced after the DiscoVision Carson facility, and the Santa Monica facility were closed, the mastering and pressing were done by the Universal Pioneer plant in Kofu Japan. Video transfer was very good, and contains vibrant colors. The dark scenes were also transferred well. Audio is about normal for DiscoVision, with the film sounding flat. The absence of high-ends make the disc feel like we were supposed to be watching the film on television, through the TV speaker, instead of through a high quality audio system. Replication is about standard for Pioneer Japan at the time, with most copies having some minor high-frequency speckling.

The disc includes the MCA Videodisc standard "shrinking numbers" artwork at the side break and end of side 2. The DiscoVision opening has no music. The copyright line at the bottom of the jacket back indicates ©1981 MCA VIDEODISC and the disc being manufactured by MCA VIDEODISC. There is also a shameless plug for the product, with Universal placing a DiscoVision display rack in the electronics store which Richard Pryor is ripping off. We get a brief glimpse during minute 5 and a prolonged view directly behind Mr. Pryor during minute 8. The stand includes an empty brochure holder, but it's clear to make out discs of Olivia, Jaws, Jaws 2 and Money in the Marketplace/Choosing What to Buy. All discs appear to be in Side-Open Sticker jackets, except for the Olivia disc which was always in the printed packaging.
---
Release History
Bustin' Loose was never reissued on LaserDisc.
---
MCA DiscoVision Home Page
---
Updated: November 7, 2016
Copyright ©2000 Blam Entertainment Group