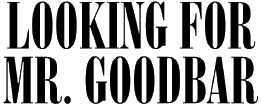 ©1977 Paramount Pictures. All rights reserved.
Catalog Number
P10-520
Format
Standard Play CAV
MPAA Rating
Running Time
136 minutes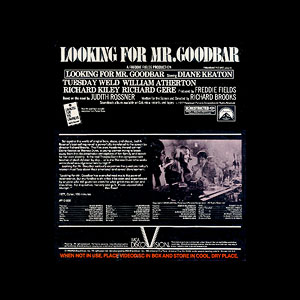 ---
Mono
Pressing Location
DiscoVision Carson
Label Color
Blue
Retail Price
$15.95
Issued
March 1979
Side
Frames
Running Time
1
38,861
26min 59sec
2
39,679
27min 37sec
3
38,784
26min 56sec
4
41,679
28min 56sec
5
42,606
29min 35sec
201,699
140min 04sec
Dead Side
Various
Ratings
Video Transfer
Audio Transfer
Replication
Packaging
Large Open-Top
Open-Top
Side-Open Sticker
Printed
Pressing Notes
Diane Keaton plays a schoolteacher who spends her nights in singles bars in Looking for Mr. Goodbar, one of a handful to titles that was licensed to DiscoVision from Paramount. The video transfer presented on this quite rare title is terrible. The image is overly dark, suffering from too much contrast and not enough brightness. There are entire scenes which take place in the dark where it looks as though I've turned off the monitor. On the scenes where there is enough light to see, the image is very green, as if the entire film was lit with fluorescent lamps.

On the audio side, there is nothing special about Goodbar either. All sides suffer from an overly bright audio track, which is quite apparent in loud passages. The right channel crackles annoyingly during most of these passages. Several copies also experience a phase shift in the audio which mistakenly produces a surround track when played through a Dolby Surround decoder.

Some masterings of sides 1, 2 & 4 exhibit 10,000 Frame Shift. Some copies of sides 2, 4 & 5 are encoded with 20 Frame Skip. There are three known masterings, which is fairly odd for a title that only managed to ship 421 copies. Looking for Mr. Goodbar was shipped from the DiscoVision Carson facility between March and June 1979 and was completely removed from the MCA catalog after the November 1979 update.
---
Release History
Looking for Mr. Goodbar was later released on Paramount Home Video on a 3 sided CLV disc (Catalog #: LV8874-2).
---
MCA DiscoVision Home Page
---
Updated: November 7, 2016
Copyright ©2000 Blam Entertainment Group