©1972 Universal Pictures and The Malposa Company. All rights reserved
Catalog Number
14-004
Format
Standard Play CAV
MPAA Rating
Running Time
88 minutes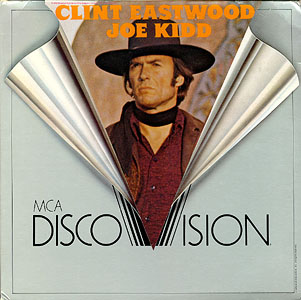 ---
Mono
Pressing Location
DiscoVision Carson
Label Color
Blue
Retail Price
$15.95
Year Issued
1979
Side
Frames
Running Time
1
34,611
24min 02sec
2
26,601
18min 28sec
3
30,823
21min 24sec
4
35,212
24min 27sec
127,247
88min 21sec
Ratings
Video Transfer
Audio Transfer
Replication
Packaging
Open-Top
Side-Open Sticker
Printed
Pressing Notes
A overly short and disjointed western, Joe Kidd is transferred very well, for DiscoVision. The video image is sharp and the colors, especially the reds and blues, are very well represented. It would garner a

rating on the video if it weren't for the contrast problem. The dark scenes are simply too dark and at times, the image is simply a blank screen with little bits of light. The audio too is transferred very well, and the jingling spurs can be heard throughout.

Side 4 is unusual as it has nearly ¾" of mirror surface (no data at all) on the outside edge.
---
Release History
Joe Kidd was reissued on LaserDisc in December 1991 by MCA/Universal Home Video (Catalog #: 14004) as a 2 sided CLV Widescreen (2.35:1) title.
---
MCA DiscoVision Home Page
---
Updated: November 15, 2016
Copyright ©2000 Blam Entertainment Group