©1979 Universal City Studios, Inc. All rights reserved.
Catalog Number
13-003
Format
Extended Play CLV
MPAA Rating
Running Time
109 minutes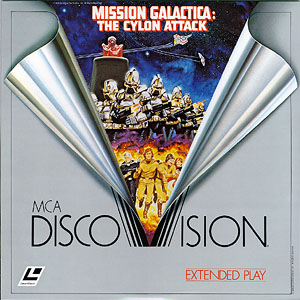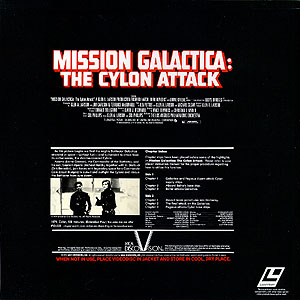 ---
Mono
Mastering Location
DiscoVision Carson
Pressing Location
Universal Pioneer Japan
Label Color
Red
Retail Price
$29.95
Issued
September 1981
Side
Chapters
Running Time
1
3
55½ min
2
3
52 min
6
107½ min
Ratings
Video Transfer
Audio Transfer
Replication
Packaging
Printed Jacket
Pressing Notes
Coming late in the life of DiscoVision, Mission Galactica's fell into the common trait of many of the last DiscoVision titles. The title was transferred and mastered by the DiscoVision Carson facility and the masters were sent to Universal Pioneer's Kofu Japan facility for replication. As all titles released released on DiscoVision in 1981 came from the plant in Japan, the quality on Mission Galactica is much better than discs pressed the year prior in Carson. The transfer of the film, directly from a 35mm release print, is fairly average. Some have reported feeling the colors are a bit on the brown side, as were several DiscoVision transfers. The audio is clear and clean. Missing are the Sensurround effects which were present in the theatrical release.

This film, released as a feature only in Japan, is actually pieces of 2 episodes from television series Battlestar Galactica (1978-79) which are spliced together into a semi-cohesive storyline. The bulk of the material is taken from a 2-hour episode entitled The Living Legend (episode 8) with the remainder comprised of scenes from Fire in Space (episode 9). Don't watch the film too closely. Since the series, which lasted a meager 17 episodes, did not have an enormous budget, stock footage is pilfered from almost all previous episodes as well as generic explosions from the Universal vaults. There are continuity errors galore.

Never listed as an available title in a DiscoVision catalog, the title was a coming attraction in the July 1981 catalog. Mission Galactica lasted through all of MCA's catalogs since DiscoVision and remained in Pioneer's listing until their Winter 1983 edition. This long hiatus was ended when Pioneer's August '86 catalog again listed the discs availability, which was nothing more than a clearing out the copies still in the Pioneer warehouse. The disc includes the MCA Videodisc "shrinking numbers" bumpers and the opening DiscoVision graphic is backed by silence, rather than the normal music. The copyright line at the bottom of the jacket back indicates ©1981 MCA VIDEODISC and the disc being manufactured by MCA VIDEODISC.
---
Release History
Mission Galactica was never reissued on LaserDisc.
---
MCA DiscoVision Home Page
---
Updated: November 5, 2016
Copyright ©1998 Blam Entertainment Group