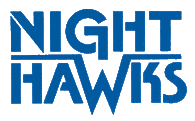 ©1981 Universal City Studios, Inc. All rights reserved.
Catalog Number
12-021
Format
Extended Play CLV
MPAA Rating
Running Time
99 minutes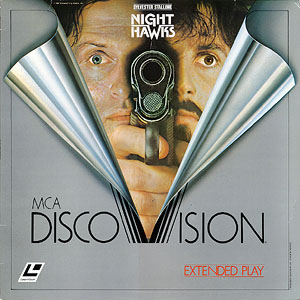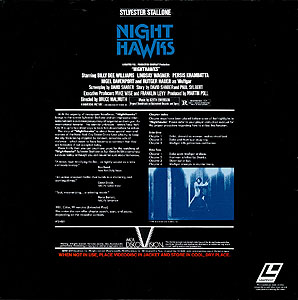 ---
Mono
Pressing Location
Universal Pioneer Japan
Label Color
Red
Retail Price
$29.95
Year Issued
1981
Side
Chapter
Running Time
1
3
48 min
2
5
51 min
8
99 minutes
Ratings
Video Transfer
Audio Transfer
Replication
Packaging
Printed Jacket
Pressing Notes
Pioneer Japan pressed this disc late in 1981 for MCA DiscoVision and was kept in the Pioneer catalog well into 1985. The disc includes the standard MCA Videodisc "shrinking numbers" bumpers. The video transfer is typical of the late DiscoVision craze to keep things too dark. The daylight shots are not overly bright, a pleasant surprise, the night scenes are too dark and details are hard to see. The audio transfer is well done however, with clean, clear sound. The frequency response is a bit flat in the high-end, but is otherwise very good. Using a theatrical print for the transfer, it does not suffer from the changes in music that are present in the new version from MCA/Universal Home Video.

The chapter stops for side 2 are incorrectly documented on the jacket. There is an additional chapter between 2 and 3 as listed on the jacket which is placed at the beginning of the assault on the Roosevelt Island tram as it is suspended over the river.

Don't ask me why Lindsay Wagner got 3rd billing in this film. She appears on-screen for maybe 5 whole minutes total. One feels as though she had a much bigger part in the film, but her role was reduced to bring the running time down. The truly dreadful Persis Khambatta has more screen time. I think William Shatner best summed up her abilities and performance in his book Star Trek®Movie Memories when he said: "Khambatta, a stunningly beautiful model, was also a stunningly bad actress, once proving that assertion by requiring a whopping nineteen takes of a single line, 'No.'"

Beyond this, the story seems too far fetched. Could all of the police in Europe be so bad that they can't catch the same man that Stallone manages to track down and kill in just under a week? I personally don't think he can draw that well.
---
Release History
Nighthawks was finally reissued on MCA/Universal Home Video (Catalog #: 12021) in December 1992 after a lengthy absence. It contains some music changes, including the removal of The Rolling Stones hit Brown Sugar.
---
MCA DiscoVision Home Page Star Trek® Movie Memories ©1994 by William Shatner and Chris Kreski. All rights reserved. Published by HarperCollinsPublishers.
---
Updated: November 24, 2015
Copyright ©2000 Blam Entertainment Group