©1980 Universal City Studios, Inc. All rights reserved.
Catalog Number
10-031
Format
Extended Play CLV
MPAA Rating
Running Time
95 minutes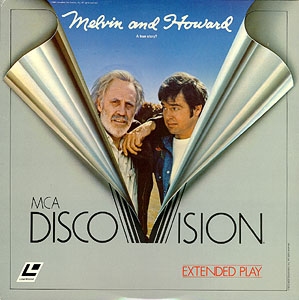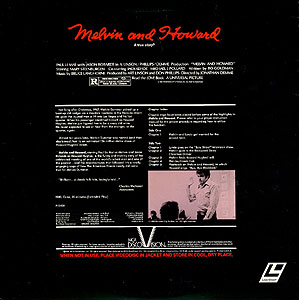 ---
Mono
Pressing Location
DiscoVision Carson
Label Color
Red
Retail Price
$29.95
Year Issued
1981
Side
Chapters
Running Time
1
1
46min
2
5
48min
6
95min
Ratings
Video Transfer
Audio Transfer
Replication
Packaging
Printed Jacket
Pressing Notes
Melvin and Howard is one of the last discs to be mastered and pressed by the DiscoVision Carson facility. Most of the other DiscoVision titles of the period were manufactured by Universal Pioneer facility in Kofu Japan. The video transfer is typical DiscoVision, with too much contrast and too much brightness which creates a washed out image which can't be seen in the dark. The audio transfer isn't much better and is generally flat. The disc includes the MCA Videodisc standard "shrinking numbers" bumpers.

Disc replication is very spotty. While many copies do not suffer from the excessive speckling problems exhibited on Prom Night, the disc is far from perfect in most other respects. Side 2 has what appears to be missing tracks which cause the picture to jump, creating a huge white blip while the player regains synchronization. This trouble is seen throughout the entire side, but is at its worst in the first 10 minutes. Side 1 doesn't suffer from any of these troubles. While these could be considered disc specific defects, it has been seen on far too many copies of Melvin and Howard to be anything but a mastering error.
---
Release History
Melvin and Howard was never seen again on LaserDisc.
---
MCA DiscoVision Home Page
---
Updated: November 24, 2015
Copyright ©2000 Blam Entertainment Group