©1978 Universal City Studios, Inc. All rights reserved.
Catalog Number
10-011
Format
Standard Play CAV
MPAA Rating
Running Time
105 minutes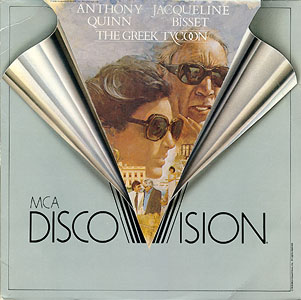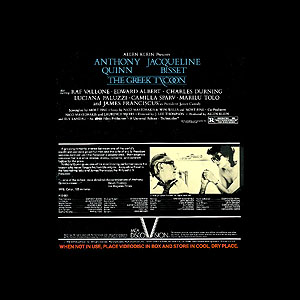 ---
Mono
Pressing Location
DiscoVision Carson
Label Color
Blue
Retail Price
$15.95
Issued
March 1979
Side
Frames
Running Time
1
40,093
27min 50sec
2
37,676
26min 10sec
3
40,144
27min 53sec
4
35,893
24min 56sec
153,806
105min 49sec
Ratings
Video Transfer
Audio Transfer
Replication
Packaging
Open-Top
Side-Open Sticker
Printed
Pressing Notes
The Greek Tycoon is considered fairly rare among DiscoVision collectors. Good copies of side 3 seem to be the trickiest to find as many experience LaserLock near the end. Further, side 3 has a higher than average speckle rate, usually starting clean and then progressing into various degrees of speckling. It is true that this disc sports two of the longest sides produced during DiscoVision's days, which is the main reason for the troubles. Disc replication is not bad, but it couldn't be considered good either. All sides from all review copies had very minor speckling.

The video transfer is truly outstanding. The colors are vivid and rich. It looses some points on the contrast, which true to DiscoVision form, is too dark, but not as bad as other films transferred at the time. Even in the very dark scenes, we can still see what's going on. There are times the image appears just a tad blue, but overall, it is very good. The Technovision 2.35:1 aspect ratio has been very badly represented by this version, and there are times when the screen is showing nothing of substance on the screen. A Letterbox transfer is badly needed. The audio is equally well done. There is no high-end distortion and the musical score has been transferred with wide dynamic range.

The artwork on The Greek Tycoon also contained a misprint in the catalog number. The back of the box reported a catalog number of 10-001 and the top listed the catalog number at 10-011. Of course 10-011 is correct. The identity of catalog number 10-001 is unknown. Some speculated that Airport was the title assigned to this number, but it appeared as catalog number 10005 several years later.
---
Release History
The Greek Tycoon was never reissued on LaserDisc.
---
MCA DiscoVision Home Page
---
Updated: November 5, 2016
Copyright ©1998 Blam Entertainment Group