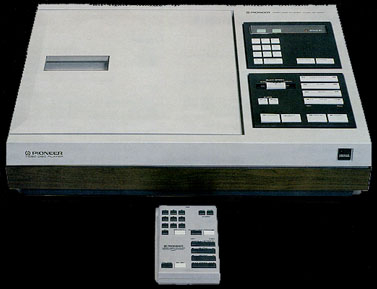 The Pioneer Videodisc Player Now Allows You To Enjoy Audio and Video High Fidelity In The Comfort of Your Home.
You've probably already heard Pioneer high fidelity audio components. Now you can see it as well as hear it with Pioneer's VP-1000 laser-optical videodisc player. The system uses a laser beam to detect the signal record on the videodisc. There is no physical contact between the pickup and the disc itself so, unlike an ordinary phonograph record, there is no abrasion and no wear on the disc or the pickup. Even fingerprints or dust on the videodisc surface will not interfere with the reproduction of a quality picture or audio because the laserbeam is focused 1.1mm under the disc surface.
High Fidelity Stereo Sound
Besides the video signal, audio is recorded on two separate channels allowing for either high fidelity stereo sound or dual languages. Audio frequency response is 40Hz-20kHz, signal-to-noise ratio is 55dB or more, and total harmonic distortion is 0.3% or less making the Pioneer videodisc player a high fidelity stereo source comparable with conventional phonograph records or FM broadcasts. Although connection to an ordinary television set is all that is required for normal video and audio reproduction, full enjoyment of the hi-fi sound quality of the videodisc player can be best has when a Pioneer hi-fi system is also employed.
Both standard (CAV) and extended play (CLV) videodiscs can be played on the VP-1000 which automatically detects these videodiscs and plays them accordingly. The standard play disc provides a maximum of 20 minutes playing time per side and also allows you to utilize the freeze-frame and slow motion features of your Pioneer videodisc player. The CLV disc offers a maximum playing time of one hour per side.
Random Frame Access
The VP-1000 also has a "super action" feature called frame number random access that will find a specific frame automatically by frame number within 20 seconds. Thanks to microcomputer control, a single frame can be played repeatedly to provide a still picture or each frame can be played several times for slow motion. Tracks can also be skipped for fast-forward or reverse action. These features, when used with a CAV disc, allow the Pioneer videodisc player to be used as an educational tool to learn sports, dancing and the like.
Easy to Use
All one has to do to use the VP-1000 videodisc player is to place the videodisc on the spindle, close the cover which automatically locks the disc into place, and press the play button. Since the videodiscs themselves, unlike standard phonograph records, require no special handling, the VP-1000 can be easily utilized by young children to supplement their normal television viewing material or as a teaching aid.
"The Pioneer VP-1000 laser-optical player incorporates a wide range of features most requested by consumers during Pioneer's national experience with technology demonstration," said Ken Kai. "They include freeze frame, scanning, the ability to call up by frame number any given frame on the disc (random access) and slow motion. These permit the Pioneer player to be used to meet a wide range of educational and information needs of consumers."


Updated: November 5, 1996