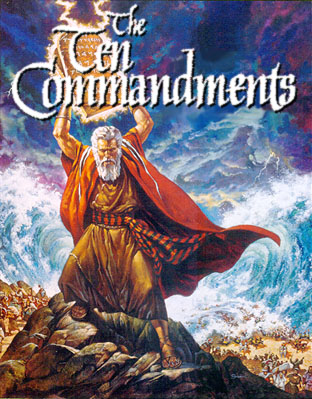 ©1956 Paramount Pictures
Catalog Number
P21-519
Format
Standard Play CAV
MPAA Rating
Running Time
219 minutes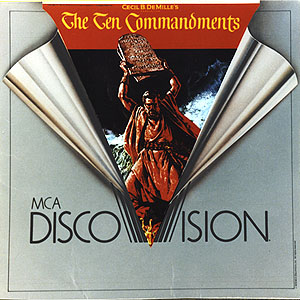 Cover mock-up
---
Mono
Label Color
Blue
Estimated Sides
10
Retail Price
$15.95
Pressing Notes
The Ten Commandments was never mastered or released. However, the cover art was completed and a transfer print obtained from Paramount Pictures. An interesting note, the 1992 Deluxe Box Set of The Ten Commandments was taken directly from the print which was in DiscoVision's possession for their transfer. Had The Ten Commandments ever been committed to DiscoVision discs, the quality would have been superb.

Rumor has it that there are actually copies of The Ten Commandments in existence. Anyone...?
---
Release History
The Ten Commandments was released on LaserDisc by Paramount Home Video (Catalog #: LV6524-2). It was reissued as a Deluxe Widescreen 35th Anniversary Box Set (Catalog # LV12971-6WS). A new "remastered" edition was released in 1998 which boasts a Dolby Digital soundtrack.
---
MCA DiscoVision Home Page
---
Updated: November 5, 2016
Copyright ©2000 Blam Entertainment Group