©1980 Polar Music International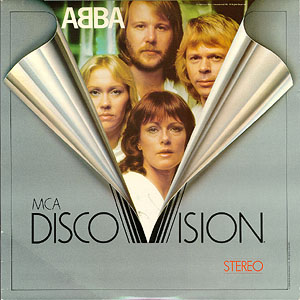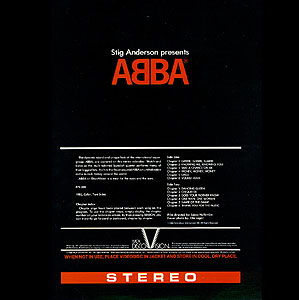 ---
Stereo
Pressing Location
DiscoVision Carson
Label Color
Green
Retail Price
$19.95
Issued
August 1980
Side
Chapters
Frames
Running Time
1
6
40,078
22min 16sec
2
6
45,400
25min 13sec
12
85,478
47min 29sec
Ratings
Video Transfer
Audio Transfer
Replication
Packaging
Large Open-Top
Open-Top
Side-Open Sticker
Printed
Pressing Notes
The first collection of "music videos" to be pressed on LaserVision, ABBA arrived during the later part of 1980. ABBA was pressed late in DiscoVision's career; a time when CAV discs had reached a better quality. The defect rate for copies of ABBA was low compared to other DiscoVision titles.

On some copies of the disc where the music from the end of side 1 continues into the side break graphics. To date, there are up to 13 different masters attributed to this title. Certain copies of ABBA have the LaserVision logo on the disc's label and/or jacket, others do not.

The Video transfer is excellent, however the source material varies from video to video. The audio presented on this disc is possibly the best DiscoVision ever produced. It doesn't come close to the same audio you'll get off ABBA Gold, a compilation of the groups music on CD, but it's still excellent for DiscoVision.
---
ABBA has never been re-issued on LaserDisc. However, most of the videos from this disc have re-surfaced on the collection "ABBA GOLD" which is currently available on PolyGram Video.
---
Return to MCA DiscoVision Catalog
MCA DiscoVision Home Page
---
Updated: October 10, 1998
Copyright ©1998 Blam Entertainment Group