©1980 Allan Nadohl Productions. All Rights Reserved
Catalog Number
74-004
Format
Standard Play CAV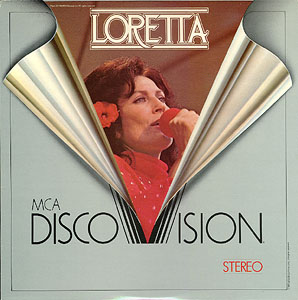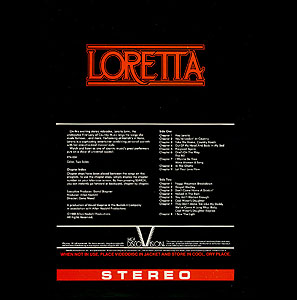 ---
Stereo
Pressing Location
DiscoVision Carson
Label Color
Green
Retail Price
$19.95
Year Issued
1980
Side
Chapters
Frames
Running Time
1
9
47,875
26min 35sec
2
8
47,404
26min 20sec
17
95,279
52min 55sec
Ratings
Video Transfer
Audio Transfer
Replication
Packaging
Printed
Pressing Notes
Rumored to have been initially mastered in Mono, the title has always been Stereo. The original copies issued are missing the "STEREO" badge on the disc label, but the program is indeed stereo. The audience for this concert was simply dead. Either that or they just don't think her jokes are funny. (They aren't really). The video transfer is actually outstanding. The audio is clean and clear, with decent stereo separation. It's a pity not all the DiscoVision programs are done as well as this one.

Side 2 contains a clip of Coal Miners Daughter that is in full 1.85:1 widescreen.
---
Release History
Loretta was never reissued on LaserDisc. A video tape version was available, but it was severely edited down from this version.
---
MCA DiscoVision Home Page
---
Updated: November 15, 2016
Copyright ©2015 Blam Entertainment Group