©1977 John Reid Productions. All rights reserved.
Catalog Number
74-001
Format
Standard Play CAV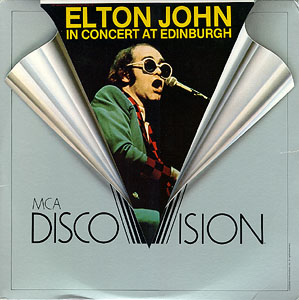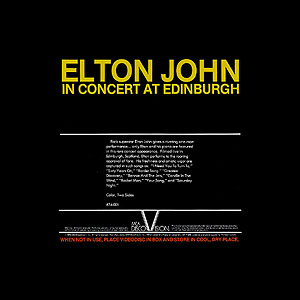 ---
Mono
Pressing Location
DiscoVision Carson
Label Color
Green
Retail Price
$9.95
Year Issued
1979
Side
Chapters
Frames
Running Time
1
6
49,152
27min 18sec
2
4
43,459
24min 08sec
10
92,611
51min 27sec
Ratings
Video Transfer
Audio Transfer
Replication
Packaging
Open-Top
Side-Open Sticker
Printed
Pressing Notes
Although they are not listed on the original box, chapter stops are encoded before each musical number on Elton John.

Side 1:
I Need You to Turn To
Sixty Years On
Border Song
Bennie and the Jets
Candle in the Wind
Rocket Man
Side 2:
Don't Let the Sun Go Down on Me
Someone Saved My Life Tonight
Your Song
Saturday Night's Alright for Fighting
When DiscoVision changed their package design from a sticker to printed jacket, the chapter stops were printed on the back. Contrary to rumors, Elton John was never a stereo program. Some have reported seeing "stereo" stickers on the shrink wrap, though it was always Mono. Side 2 has been known to exist with both red and orange bumpers.
The video transfer, struck from 16mm film, yet reframed for video, is actually very good, The reds are sharp with not too over-saturation. The audio is crisp, but oddly lacking in some high-ends, causing it to sound a bit muffled.
---
Release History
Elton John: In Concert at Edinburgh was never reissued on LaserDisc.
---
MCA DiscoVision Home Page
---
Updated: November 15, 2016
Copyright ©1998 Blam Entertainment Group