©1970 Metromedia Producers Corp. and Les Requins Associes. All rights reserved.
Catalog Number
51-009
Format
Standard Play CAV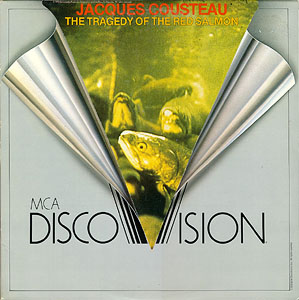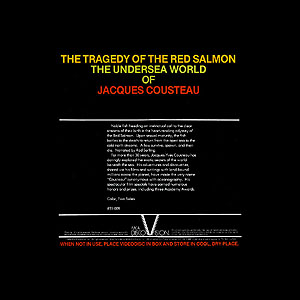 ---
Mono
Pressing Location
DiscoVision Carson
Label Color
Green
Retail Price
$9.95
Year Issued
1979
Side
Frames
Running Time
1
36,244
25min 10sec
2
37,042
25min 43sec
73,286
50min 53sec
Ratings
Video Transfer
Audio Transfer
Replication
Packaging
Open-Top
Side-Open Sticker
Printed
Pressing Notes
The Tragedy of the Red Salmonis one of eight titles from The Undersea World of Jacques Cousteau which was released on DiscoVision. It deals with the migration of these remarkable fish to the place of their birth. What makes this a unique observation, is this particular migration is the first group of salmon to return to a lake which was artificially populate by man five years earlier with fertilized salmon eggs.

The video transfer, taken from a 16mm print is typical of the other Jacques Cousteau titles from the Silver Catalog. This particular print has several poorly repaired splices which manifest themselves noticeably. The transfer itself has the contrast and color balance are under control. Very little of the action takes place under the water due mostly to the shallowness of the streams and lakes. The audio transfer is typical for the 16mm optical track, with little excursion into the upper and lower frequency range. Disc replication is just above average, with some minor high frequency speckling on most copies. This disc also includes a bumper card for The Undersea World of Jacques Cousteau, used for commercial breaks. This inclusion is unique to this disc.
---
Release History
The Tragedy of the Red Salmon was never reissued on LaserDisc.
---
MCA DiscoVision Home Page
---
Updated: November 7, 2016
Copyright ©1998 Blam Entertainment Group